Co-Presidents: Mary Kay Ault  and Emily Hitchens
Email: highline@aauw-wa.org
Archives: NW Center, Western Washington University
Awards: 21st Century Recognition Platinum Award for 2006
IMPORTANT ANNOUNCEMENT:    
Be a Two Minute Activist!  (from National AAUW)
Take Action to Stop Judge Kavanaugh's Confirmation to the Supreme Court: Call Your Senator at 1-855-973-0824
Despite multiple, credible allegations of sexual assault against Supreme Court nominee Judge Brett Kavanaugh, the Senate has shirked its duty to take these allegations seriously, refusing to allow the FBI to fully and fairly investigate these
claims or to halt the confirmation proceedings to gather more information.  Judge Kavanaugh's judicial record shows he won't stand up for the health, education, and economic security of women and girls – and his fitness for this position has been called into question as well. If sexual assault allegations aren't investigated now – when a lifetime appointment to the U.S. Supreme Court is at stake – it devalues the promise of justice
for all survivors and the integrity of the Supreme Court itself.
It's clear that this process has failed Dr. Christine Blasey Ford, survivors of sexual assault, and the American people. If the Senate will not allow the FBI to investigate the allegations against him, Judge Kavanaugh's nomination must be withdrawn.
Your senators need to hear directly from you about Judge Kavanaugh's confirmation. Call 1-855-973-0824 or enter your phone number below to receive a call and be connected. You will hear a brief script before being patched through to your
senator's office.
Once you're connected, the message for your senator is simple: As your constituent, I urge you to do everything in your power to stop Judge Kavanaugh's confirmation from moving forward. His record makes it clear he won't support women's
constitutional and civil rights. Further, the confirmation process has not allowed the FBI to fully and fairly investigate these multiple, credible allegations of sexual assault or to halt the proceedings to gather more information. Judge Kavanaugh does not belong on the Supreme Court. I urge you to halt his nomination. Enter Your Phone Number: Call Me!
BRANCH MEETINGS – 2018 and 2019:
Generally, FIRST Saturday of Month, 9:30am at various locations including
White Center Library, 1409 SW 107th St, White Center, WA
Highline College, Bldg 21, Room 104, Des Moines, WA
Burien Community Center, 

14700 6th Ave So, Burien, WA

Puget Sound Skills Center, 18010 8th Ave So, Burien
       Normandy Park Community Center, 1500 Shorebrook Drive, Normandy Park, WA
Please be sure and check our newsletter or email Mary Kay Ault for exact location  (aauw2015@gmail.com)
Chapter Board Meetings:  All members are welcome to attend our monthly board meetings traditionally held the Friday following the Membership meeting noted below.
Past Exciting Events:  Our abilities to send youth to summer Tech Trek Camp and recognize the High school Scholars in 2017!   Click on the link below http://www.smilebox.com/playBlog/4e444d774e444d794d7a4d3d0d0a&blogview=true
2018-2019 Meetings and Events!
October 5, 2018 at Puget Sound Skills Center, Highline School District volunteer program "Reading Partners"
Tour of facility/report from staff of PSSC
November 3, 2018 at Normandy Park Community Center
Presentation on "Grief and Loss"

December 2018 – no formal meeting -Christmas Cards and Tea mailing

January 5, 2018 at Normandy Park Community Center
Youth at Risk – Jim Matta, Mayor of Burien –

February 2, 2019-Mardi Bra collection at Mary's Place visit 
March 7, 2019 at Burien Community Center – 45 years of Title IX – Panel with School
District Title IX coordinators

April 6, 2019 – Highline Historical Museum Visit, Burien
Annual Meeting and Election

May 2, 2019 at ERAC (Highline District School Offices) – HS Scholars' Presentation and Reception

June (DTBD) at Rainier Golf & Country Club – End of Year Celebration Children's
Hospital Fashion Show.  (details pending)
=================================
Other important dates:
Washington State Convention
=================================
BRANCH PROJECTS
Education & Equity
AAUW Scholars Recognition Program working with seven area high schools in the Highline area.
Reception in  May of each year for the honorees, teachers and families held at ERAC – High School District Offices. May 2018 keynote speaker to be announced
 Highline Chapter funded three  7th grade girls at the 2018 summer STEM Camp, also known as Tech Trek Camp.  This state wide camp is sponsored by Washington State AAUW.  Congratulations to these outstanding young teens!
Public Policy
Branch delegation to Lobby Day
Branch Candidate/Issues Forum with League of Women Voters
Get-Out-the-Vote Project
Fundraising
CONTRIBUTIONS
AAUW Educational Foundation
AAUW Legal Advocacy Fund
MEMBER ACTIVITIES
Book Groups (2) a morning and an evening group
Book Exchange  and the
Cuisine and Culture Society group
PICTURES:
When Women Succeed, America Succeeds!  Local members hear Nancy Pelosi speaking about an Economic Agenda for Women and Families -Nov 25, 2013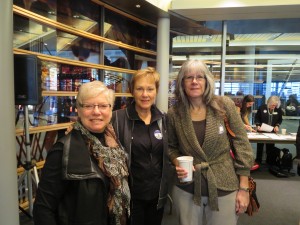 (Kathy Linnell, Eva Parks, Barbara Sando)
Pay Equity for Airline Attendants by Mary Patricia Laffey Inman – Presented by Highline Community College Women's Center –  October 10, 2013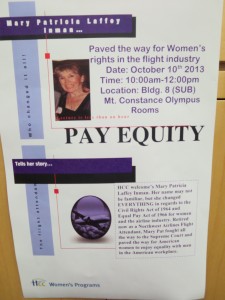 4 Highline Branch members attended this powerful presentation – which after 15 years resulted in a $59 million award to the flight attendants.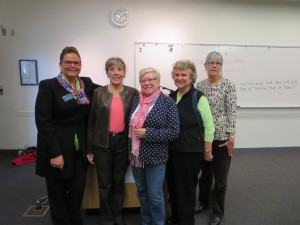 left to right: Jean Munro, Mary Pat Laffey Inman, Kathy Linnell, Emily Hitchens, Barbara Sando